league of war marketing
background
I was assigned to help with the marketing ads for our most popular title "League of War: Mercenaries". My responsibilities include coming up with promotional video ideas and maintain releasing schedule by working with the marketing artist and the UA team.
DATA Insight
In order to really know what direction can potentially yield the most effective results, I worked with the UA team who provided the insights collected through Facebook Analysis.
As it turned out, videos which showcased straightforward gameplay and the product content yielded better ROAS in general, and particularly well in North America (on both iOS and Android).
research
First of all, I wanted to have a general understanding about how other similar games did their ads, so I conducted an initial research on ads which had similar selling points, game mechanics and game type as our title.
After I had a better idea about which ad direction to go for, what our game's selling points were, I did further research on the ad platform we would be using, which was Instagram Story.
Furthermore, in order to dig deeper into the trends and psychology behind successful ads, I read and organized a list of reports to help with solidifying marketing direction and decision making.
After the research phase, I concluded the key selling points of the game:
High quality real time 3D graphics

Variety of cool units to level up

Battle progression

Battle explosions, excitement and climax

Upcoming transformer units

Upgrading units

Variety of engaging game features

Raid leaderboards

Special assignments such as Flagpoints & Dark Ops

Alliance

Strategic gameplay with units with different skills and "dis-synergy" between different factories
In addition, according to the UA team, the less text in our videos the better in order to reach the widest audience.
Ad content ideation
Once the ad direction and rules/concerns were established, I started working with the marketing artist to design storyboards for the videos.
I have created around fifteen storyboards so far, and the following are some sample images: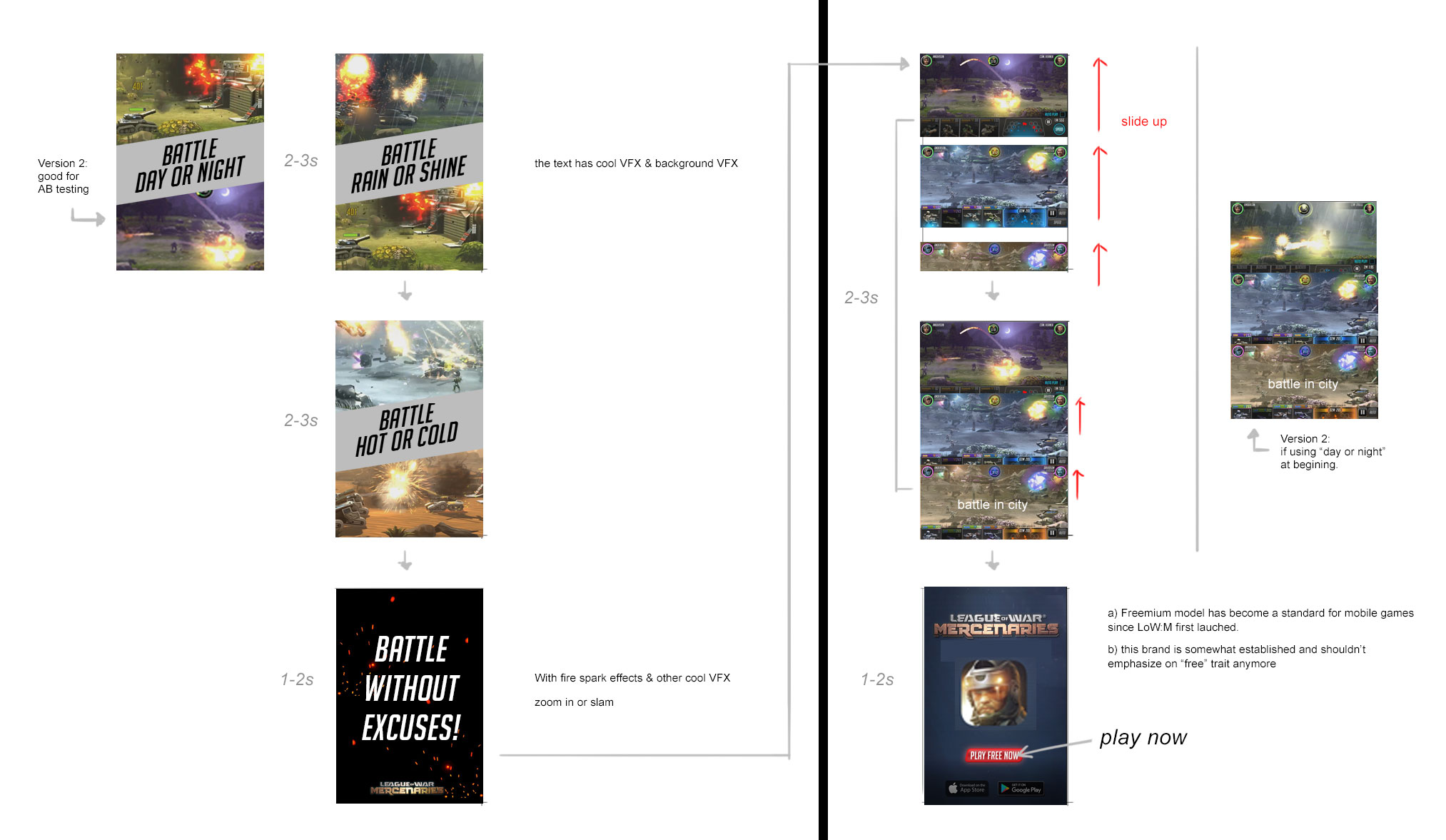 However, Instagram Story proved to be unstable sometimes.
In order to maintain stable viewership, we started to create ads in square format in order to accommodate both Facebook vertical feed and Instagram square-image feed.
detailed shot designs
In order to help reduce the production time with high quality result, I was also in charge of designing the detailed shots and potential transitions.
Most of the detailed shots are AE-ready PSD files to be handed off to the marketing artist.
The following are a few shots as sample:
cross-platform ads
In order to reach to the widest viewership, we paid extra attention to ensure our materials can target more than one ad platform.
Our primary ad platforms are (in the order of frequency):
Facebook feed

Instagram feed

Instagram Story

Youtube videos

TV
However, since LoW: Mercenaries is in horizontal format, we needed to re-design the layout just to accommodate vertical feed and square feed. While the layout is not necessarily how the game looks like, it conveyed the content much clearer instead of misleading the viewers to assume a poor quality of the product.
Because of the different ad ratios, we needed to design content with different dimensions in mind and be clever and strategic about recording the footage and designing the graphic art.